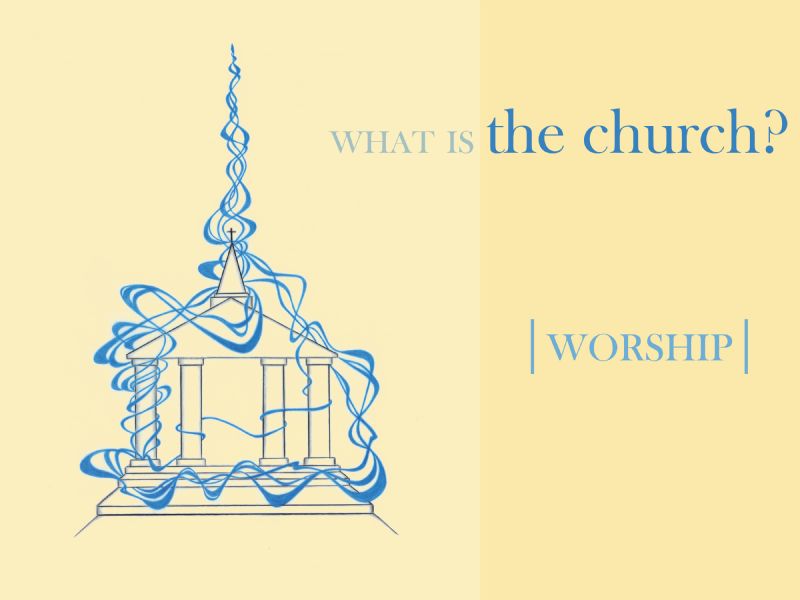 So what is the church?
It goes without saying that the church is not a building. Although we designate the building as a church building, it is not the church. We do not "go to church" we go to a building where the church meets.
The first and primary function of the church is Worship.
What is Worship? Is worship singing? Is it a church service a worship service? Do we only worship on a Sunday morning? The word "Worship" comes from the old English word which is made up of two words, Worth and Ship. We worship what we give value to, what we think about, what we dwell on. It is not just singing, or meditating, although that is a large part of worship. We worship by the way we use our money, we worship in the way we work, we worship by the way we share the Gospel with others, we worship in the way we spend our free time. Our lives are to be a living testimony as we show what we value. We are to worship God with our lives.
A wonderful example of worship is Psalm 96.
http://www.biblegateway.com/passage/?search=Psalm%2096
As we study this Psalm we see that is can be divided into 4 distinct parts.
1. A call to praise the Lord  (verses 1-3)
Three times in the first three lines, the composer says "Sing to the Lord", this is pretty clear that when we focus on the presence and greatness of the Lord, we are compelled to sing out.
The result of singing about the greatness of God is that we proclaim his salvation, what God has done for us. For the nation of Israel at this time, it was a recalling of their deliverance from Egypt, and their claiming the promised land. For us it is the glory of the cross and our salvation bought by the sacrifice of Jesus. As we do this we declare the good works of God among the nations – this sounds a lot like the Great Commission (Matthew 28). The Gospel is a call to worship, to turn from sin and call on the name of the Lord. (Ephesians 1:12)
The main point of these first three verses is that if we truly grasp the greatness of God, how incredibly awesome he is, we will make him known to others, we will tell of the goodness of God, the Good news, the Gospel of Jesus Christ.
2. A focus on the greatness of God. (verses 4-6)
These three verses seem to reflect Psalm 93 as the author focuses on the majesty and greatness of God as opposed to the man-made idols. And let us remember that we still have idols today, anything that takes the place of God in our lives, whether it is a relationship, money, etc. these are all Idols, things that capture our attention.
Everything in our worship services, should be to draw attention to this God and to cause people to think about him. When we focus on the greatness of God, praise is the natural response. (Revelation 4:11)
3. A focus on our coming to God in worship. (verses 7-10)
In verses 7 and 8 we see the word "Ascribe" used 3 times. This word means to write down, to credit these things to God, to make note of it. What we find in these verses is that the focus is on giving credit to God, to give an offering of praise, to make a sacrifice of praise. We need to fiercely guard against coming to worship God out of routine and habit. Our worship is about God and not us, we are giving credit to Him for his attributes. (see Hebrews 13:15)
As verse 8 continues, we see that as we bring this sacrifice of praise, we are invited to come into his courts, we are invited to come into the presence of God. As a result of what Jesus did on the cross, we have access to the throne room of God, the Holy of Holies, we are invited to worship God in the splendor of his holiness.
If we think it is a simple matter of walking into God's presence we are reminded that as we encounter the presence of God we will tremble before him, it is no small thing to come into the presence of the Almighty.
But the truth is that it is God who has initiated the communion. He is the one who invites us to join Him in fellowship. True worship also flows out of seeing and realizing God for Who he is. Genuine worship is not something that is self-generated or something that we can work up in our emotions, rather it is a natural response to the realization of who God is.
Then as we come to verse 10 we once again focus on evangelism, missions telling the nations about the Good News. As we come into the presence of God, the natural response will be to tell others.
Missions is not the ultimate goal of the Church, Worship is. Missions exist because worship doesn't. Worship is ultimate, not missions, because God is ultimate and not man. John Piper
But missions must never supersede worship. Missions is a temporary necessity, worship will continue forever. Worship is the fuel and goal of missions, In order for us to direct others to Jesus, we need to come from a place of intimacy and worship. Where passion for God is weak, zeal for missions will be weak.
4. A focus on all of creation waiting for the coming of the Lord. (verses 11-13)
In these verses we read of the entirety of creation rejoicing, why?
Because he comes! Jesus is coming again. All of creation is waiting for that day with excitement, because it was not only mankind that suffered because of sin, but all of creation is suffering. The world is deteriorating because of the fall of man. All of creation is designed to reveal the Glory of God (Psalm 19).
Not only is He coming, but he is coming to judge the world. This judgment is the act by which God will restore things to their proper order. Wrongs will be put right, the suffering that we are undergoing because of the evil in the world will be ended. Suffering from injustice will be made right. All of creation is looking forward to that divine restoration.
In biblical worship, God has already acted on the behalf of the worshiper. In fact, it is God who provides the means for a sinner to draw near to him, and thus is it God who invites those who come with a true heart in full assurance of faith to draw near to him and worship.