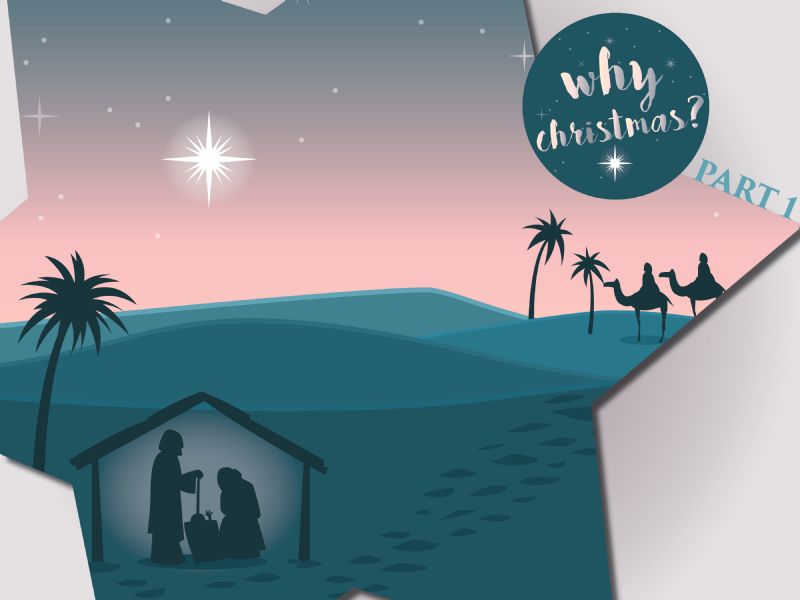 Isaiah 9:1-7
Recently I was putting up some Christmas lights along the gutters of our house, it was cold, I was frustrated, and getting more miserable as the afternoon wore on. I don't like the cold, the lights weren't working and I determined that next year we would make it much simpler and have only a few lights on the house. Why was I doing this? My family was rapidly losing interest, they were sitting inside drinking hot chocolate. Why was I doing this?
This must be the same question asked by millions around the world. Since we live in a society that tries to ignore God, saying that we are post-modern and the natural evolution of man means that we don't need to believe in a God who created all things. So why are we celebrating Christmas? What is the point of Christmas if we leave out Jesus? I fear that in a generation to come we will still have this celebration called Christmas, because the retailers demand it, but because nativity scenes will be illegal, and all reference to Jesus will be taken out, people will begin to ask, why do we celebrate Christmas?
In Isaiah 9 we read about two tribal areas in the northern kingdom of Israel; Zebulun and Naphtali. It is important for us to note that in 732BC the Assyrian army attacked and overran the northern Kingdom, and the first two tribes to be routed were Zebulun and Naphtali. The area became dominated by Gentiles and was known as Galilee of the Gentiles. The northern kingdom was inhabited by many different peoples and became known as Samaria, thus the prophecy of Isaiah here calling it "Galilee of the Nations" proved to be remarkably accurate. But at the time, it must have been inconceivable to the Israelites. This part of Northern Israel was the first to be overrun by the Assyrians, the first to fall into darkness, and by God's wonderful grace, they are also the first to see the light of the promised Messiah (Isaiah 9:2).
Jesus could have launched his ministry anywhere, it would have made sense for him to start his ministry in Jerusalem, as it was a major hub. But instead, as we read in Matthew 4:13, Jesus begins his ministry and heads to Capernaum, in the region of Zebulun and Naphtali. Not only is this significant because Jesus is coming to the area where the destruction of Israel began, but also I believe Jesus was demonstrating that he was coming for both Jews and gentiles. And in verse three we read; "You have enlarged the nation and increased their joy", here the prophet is speaking of God enlarging the nation. What I believe he is talking about here is that as a result of Jesus' coming, the nation will grow because Jesus came for both Jew and Gentile. We who have believed in Jesus Christ as Lord and Savior are part of the Kingdom of God. This is an incredible prophecy, that Isaiah pens. The Old Testament has over three hundred prophecies directly relating to Jesus. So the first question is:
The role of a prophet is to preach, to declare the truth. To speak to the present the eternal truths of God. Frequently in the Old Testament the prophets spoke about a coming champion. Israel at the time of the prophets was a dying nation, many of the people had been taken into slavery and exile. There was great confusion and loss of identity. The nation yearned back to the days of David and Solomon when the nation was at its greatest and most powerful. It was in this era that the prophets were used by God to encourage them and give a glimpse of greater days ahead.
The prophecies were necessary because when combined, they reveal that Jesus must be the Son of God, the promised Messiah. The fact is that even though we have seen the fulfillment of almost 300 prophecies about Jesus in the Gospels, we need the prophecies just as much as the ancient Jewish nation needed them.
They needed them to warn the nation and to keep them faithful and hopeful.
We need them to remind us that Jesus was no ordinary man. He was God's Son, coming to live amongst mankind.
Every year we read those familiar words in Isaiah 7:2; "Therefore the Lord himself will give you a sign. Behold, the virgin shall conceive and bear a son, and shall call his name Immanuel."
Immanuel, means; "God with us", literally God in human form, which leads us to our next question.
The answer to why God became a man starts with the creation of the universe. God created all things, in fact Jesus spoke all things into existence as we see in John 1:1-4. In the garden of Eden there was perfect communion, but then man sinned and a gulf was formed between God and man. Mankind and all of creation has suffered as a result of the sin of Adam and Eve. The gulf that was the separation between God and man was so great that mankind could never cross over back to God, no matter how good man tries to be, how many laws man tries to obey, we could never be good enough to restore the relationship with God.
The problem needed a solution, and it had to come from God as mankind could do nothing. The first step was for God to introduce himself to mankind. We could not connect with God, but he could connect with us and reveal himself to mankind.
But an infinitely holy God could not simply reveal himself to man, so God had to become like man, take on flesh, and literally be born of a woman. The creator became like one of his creatures in order to display God's character and nature to mankind and provide a way to reconcile man to God (John 14:9).
This leads us to our third question.
What is our response to this? Isaiah 9:6 states; "For to us a child is born, to us a son is given.."
"For to us a child is born" shows that Jesus was born just like any other person, he was fully human.
Then we have the phrase, "to us a son is given"; and we compare it with John 3:16; "For God so loved the world, that he gave his only son…" Almighty God, gave his only son, why? Why did God give His only son? The Bible tells us in John 3:16; "So that whoever believes in him should not perish but have eternal life."
So there is the simple answer to the question, why do we need to believe? Because if we don't believe in Jesus Christ, and make him Lord of our lives, we will perish.
This is the miracle of Christmas, the significance of this special time of the year. God sent his son, to dwell with man, is he Lord of your life?